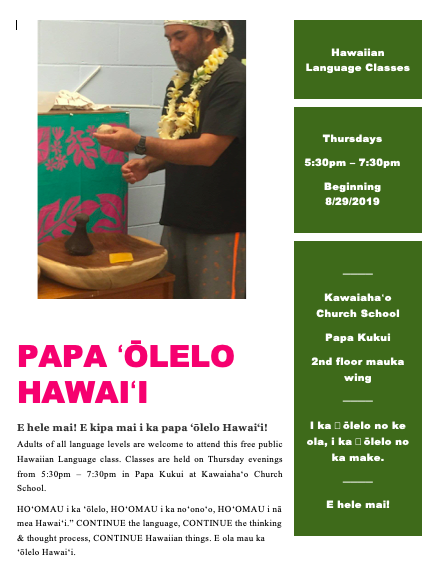 E hele mai! E kipa mai i ka papa ʻōlelo Hawaiʻi!
Adults of all language levels are welcome to attend this free public Hawaiian Language class. Classes are held on Thursday evenings from 5:30pm – 7:30pm in Papa Kukui at Kawaiahaʻo Church School.
Classes will begin on Thursday, August 29th, and run through the school year with the exception of winter, spring break and other school holidays.
HOʻOMAU i ka ʻōlelo, HOʻOMAU i ka noʻonoʻo, HOʻOMAU i nā mea Hawaiʻi." CONTINUE the language, CONTINUE the thinking & thought process, CONTINUE Hawaiian things. E ola mau ka ʻōlelo Hawaiʻi.