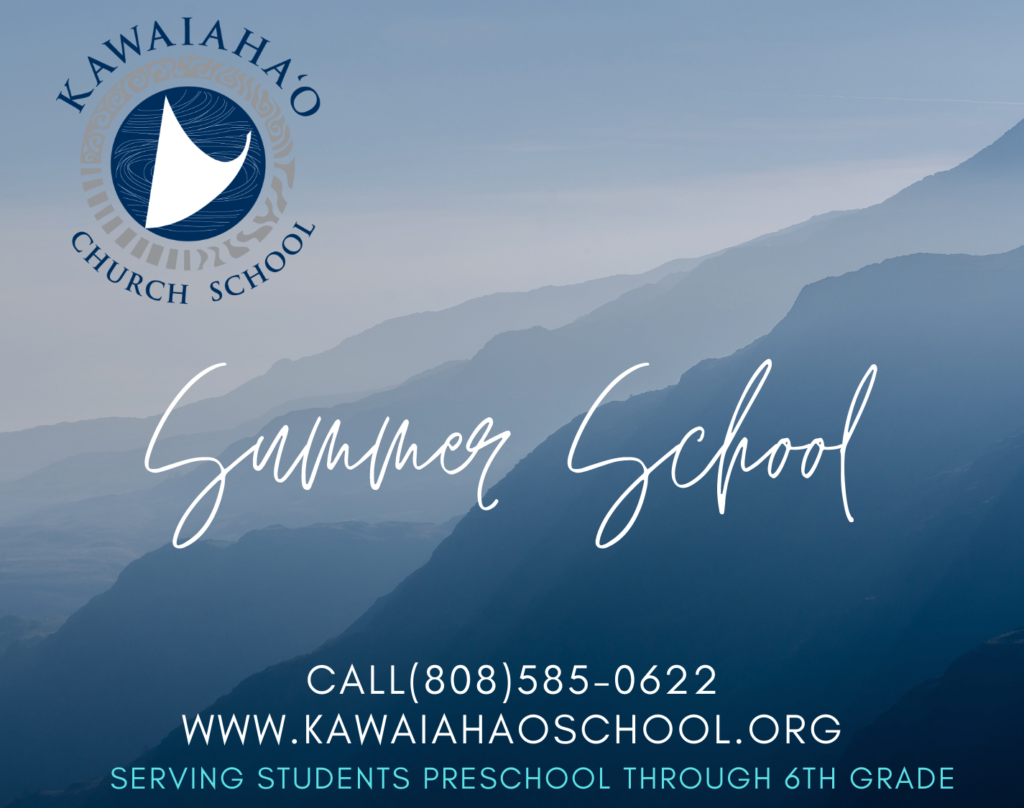 Kawaiahaʻo Church School's Summer Program has limited spaces available.  We are allowing our in-house families to apply through March 31, 2022, before accepting guest applications.  Please email admissions@kawaiahaoschool.org, or call us at (808)585-0622 to ensure spaces are available before submitting your application. 
Kawaiahaʻo Church School offers programs for keiki from 3 years old through 6th grade! (Our 2-3 year old program is a year-round program).
This summer's program will focus on ecosystems of Hawaiʻi based on curriculum from Kamehameha Publishing. Through hands-on S.T.E.A.M. (science, technology, engineering, art, and math) activities, and Montessori project-based learning, keiki will learn more about ecosystems from the mountains cloud forest to the oceans coral reefs. They will learn about how a healthy relationship between the ecosystems is important for both people and animals.
Kawaiahaʻo Church School's Summer Program is great way to continue to give keiki exposure to ʻōlelo Hawaiʻi (Hawaiian language), teach keiki about unique plants and wildlife native to Hawaiʻi, and to share Hawaiian culture and values. Keiki will be learning in a safe, indoor-outdoor classroom environment.
Summer Session Dates:
Summer Session 1: June 1- June 30, 2022
Summer Session 2: July 1- July 29, 2022
Program Hours:
During Summer Session, keiki can come as early as 7 a.m.  The program ends at 2:30 p.m., however, students in our Primary Program (ages 3-6 years old) will have the option to continue in After School Care available until 5:00 p.m.  After School Care is not available to our Elementary keiki enrolled in Summer School.
Meals:
Snacks are also included in the Summer School tuition, but lunches are not included. The school provides a morning snack and afternoon snack for those enrolled in after school care. You may bring home lunches or order lunches through our catering service. If you are providing home lunch, please pack your child's lunch in a small cooler or insulated lunch bag. Catering service is available per session through Keiki Lunchbox. Contact Cathy at 772-7482 or keikilunchbox@gmail.com. We encourage healthy eating habits and encourage proper nutrition from an early age. We do not allow candy or soda to be brought to school.
Summer School Supply List: (Please bring the following items on the first day of each session)
1 roll of paper towels per session
1 apron or large t-shirt
1 complete change of clothes and face mask in a ziploc bag labeled with child's name (to be kept in child's cubby)
1 sleeping mat (for our Primary Program keiki)
1 fitted crib sheet for nap (for our Primary Program keiki)
Covered shoes for walks and excursions and play structure
Tuition
A Kawaiahaʻo Church School t-shirt is included in the application fee. You may click here to view the monthly tuition during each Summer Session.  You may sign up for one and or/both of the Summer Sessions available.  In short, tuition during the Summer is $980 month for our regular program hours of 745am-230pm and After School Care through 5pm is available to our Primary Students (3-6 year olds) at additional $300 per month.