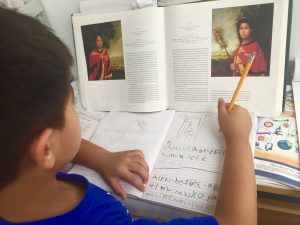 Elementary Program
The elementary program is uniquely designed to meet the developmental needs of the child from 6-12 years of age.
The prepared Montessori environment maximizes independent learning and exploration on the part of the child.  Each child works in an individual way with their own store knowledge, allowing him/her to progress at their own pace.
A multi-aged setting allows for in-depth social interaction between class members. All subjects are introduced in the 6-12 aged classroom.  These include Christian education, Hawaiian culture and language, mathematics, geometry, botany, zoology, language arts, geography, the physical sciences and the arts.  Children are given key lessons, which allow for open-ended and unlimited exploration in areas of specific interest to the child.
The elementary plane of development from age 6-9 is characterized by imagination, moral sensitivity, intellectual drive and an increasing interest in social groups.  This is the perfect time to dive deeper civics education, history, and learning about the world around us.
Our elementary students rarely use textbooks, bur rather use library research, with children gathering information, assembling reports, teaching what they have learned to their peers, and organizing events that involve parent participation.
Literature, art, music, dance, drama, history, social issues, political science, economics, architecture, science, and the study of technology all complement one another in the elementary curriculum.  This integrated approach is one of the elementary program's great strengths.
MONTESSORI MODEL UNITED NATIONS (MMUN)
Kawaiahaʻo Church School 4th-6th graders participate in the Montessori Model United Nations.  To our knowledge, we are the only Montessori school in the state that participates in this global program promoting civics and peace education.
Montessori Model United Nations is a partnership with the United Nations which starts with an in-depth study of a selected country in the classroom.  The students assume the role of ambassadors from UN member states to debate current issues on the organization's agenda.  During the simulation process, student delegates give speeches, prepare draft resolutions, negotiate with allies and adversaries, resolve conflicts, and navigate the Model UN Conference rules of procedure- to resolve problems that affect countries all over the world.  Please see the link below to learn more about the program:
Here is a link to hear from 2 of Kawaiahaʻo Church School's MMUN delegates from 2018: