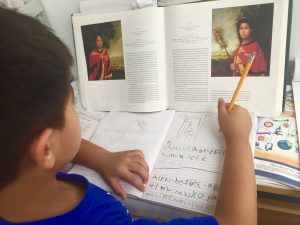 Elementary Program
The elementary program is uniquely designed to meet the developmental needs of the child from 6-12 years of age.
The Elementary curriculum is highly individualized, allowing for acceleration or reinforcement when appropriate.  A multi-aged setting allows for in-depth social interaction between class members. All subjects are introduced in the 6-12 aged classroom.  These include Christian education, Hawaiian culture and language, mathematics, geometry, botany, zoology, language arts, geography, the physical sciences and the arts.  Children are given key lessons, which allow for open-ended and unlimited exploration in areas of specific interest to the child.
The elementary plane of development is characterized by imagination, moral sensitivity, intellectual drive and an increasing interest in social groups.  This is the perfect time to dive deeper civics education, history, and learning about the world around us.
Literature, art, music, dance, drama, history, social issues, political science, economics, architecture, science, and the study of technology all complement one another in the elementary curriculum.  This integrated approach is one of the elementary program's great strengths.