Accepting Summer School Applications!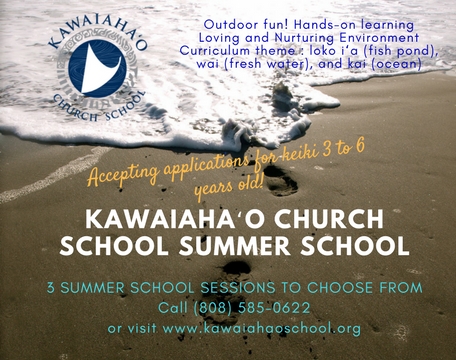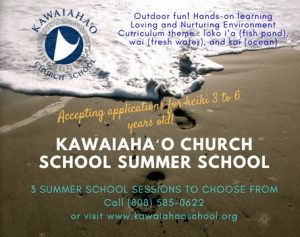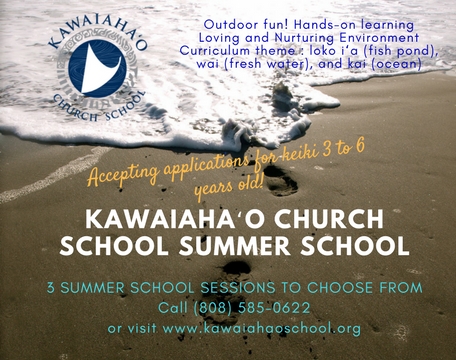 We are accepting applications for our Summer School Program!
The Kawaiahaʻo Church School 2018 Summer Program is open to keiki ages 3-6. (Our 2-3 year old program is a year-round program).
This summer's theme will focus on loko i'a (fish pond), wai (fresh water), kai (ocean), and how a healthy relationship between all of these ecosystems is important for both people and animals. The program will include hands-on activities; and an integrated S.T.E.A.M. curriculum related to our home in Hawaiʻi. One huakaʻi (excursion) per session will help enhance and supplement the curriculum. All excursion costs and materials are included in the tuition.
Our Summer School is offered in 3 sessions.  You are welcome to sign up for all 3 sessions, or choose the session(s) that best fit your summer schedule!  Here are the dates of the 3 sessions:
Session I (June 4-June 22)
Session II (June 25-July 13)
Session III (July 16-August 3)
Click here to read more about our Summer School Program, or here to fill out the application.  Applications can be scanned in and emailed to admissions@kawaiahaoschool.org, or mailed to 872 Mission Lane, Honolulu, HI 96813.  Mahalo!