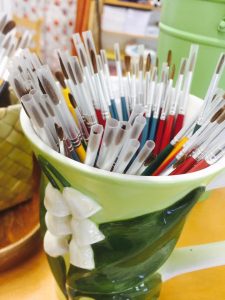 Enrichment Program
The enrichment program is for children ages 5 and 6 years old enrolled in our Primary/Dual Language Programs and serves as a stepping stone into our Elementary Program.   This gives the older children in the primary program the chance to have daily individual time for specialized curriculum, extracurricular activities, and group work.
The enrichment program is aimed at strengthening the keikiʻs sense of self and their understanding of the world around them through the exploration of arts, science, geography, anthropology, history, culture, and oceanography.  Some of the more specific curriculum includes: learning how to draw a self portrait; creating a timeline of their lives; study of the oceans; learning how continents are formed; diving deeper into the history of Hawaiʻi; and exploring weather patterns and navigation.
The keiki will be experiencing these lessons in a rich art studio environment to further grow their creativity and expression to grow their curiosity and passion along their learning journey.
Here is an overview of the Enrichment Program's lessons plans for the 2017-18 School Year.