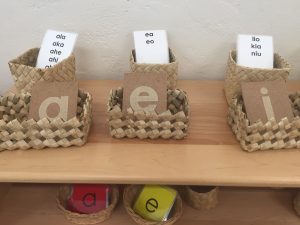 Dual Language Program
Although Hawaiian values, language and culture permeate the entire school, this Hawaiian based language program goes beyond stories, songs and vocabulary to provide a sound foundation in Hawaiian Language.
The dual language program has been deemed as "highly effective and uniquely innovative" in a recent Hawaii Association of Schools and Colleges Accreditation Report.
The curriculum has been designed to help children succeed in western education as well as surrounding them with rich Hawaiian language experiences, by connecting traditional Hawaiian cultural knowledge to western STEM concepts.
Montessori language materials for use specifically in the Hawaiian language have been created, so that materials will reflect the Hawaiian alphabet and syntax.
Some children in this program come from families with the Hawaiian language at home, but most do not.  Hawaiian Language classes are offered to parents who want to learn and better support their child's experience.
The kindergarten-aged children also get to participate in an afternoon enrichment program.  The children will have individualized time to focus on getting ready for the Elementary Program.